WCA Theatre: Stealing Kandinsky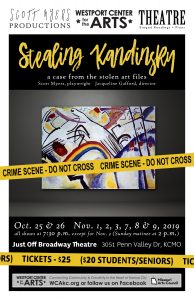 A mystery! A thriller! A case from the stolen art files!
A reflection on censored, ignored, misused artists!
Set: A modern art museum. Time: Today.
Original paintings by Stanley Brian Morgan.
Starring: George Forbes, Justin Speer, Kim Sheek, Tim Burks, Kim Griddine, Jabrelle Jenee, Terraye Watson, Lorenzo Hughes, child actors Sydney Thomas, Mauriele Fields
Jacqueline Gafford, Director & Frances Farah, Stage Manager
Playwright: Scott Myers
Presented by Westport Center for the Arts and Scott Myers Productions. Runs for 3 weekends. Friday & Saturday, Oct. 25-26. Friday-Sunday, Nov 1, 2 & 3, and Thursday-Saturday Nov. 7, 8 & 9. All shows are at 7:30 p.m. except for Nov. 3 (Sunday Matinee at 2:00 p.m.)
At the Just Off Broadway Theatre.
Tickets: $25. ($20 students/seniors). Advanced tickets available through Eventbrite or purchase tickets at the door.
Visit their Facebook Event for more information.