There are multiple gathering spaces at Westport Presbyterian Church that can be used for a variety of events. You can find additional information below for each space. All shared space rentals are subject to availability of the space as well as staff. Please contact the church office to make a request to use our space for your event.
Storefront
The Storefront is located along Westport Road and directly accessible from street level. It is an ideal space for support groups and other small gatherings such as classes or meetings.
Shared Space Donation Rate (Groups that are not charging a fee for their event, such as support groups):
For the first six months, the rate is donation based with groups collecting a free will offering and giving what they are able. After six months, church staff will meet with the group to finalize a regular space sharing donation.
Shared Space Donation Rates (Groups that are charging a fee for their event):
$50 for up to two hours
$90 for up to four hours
A whole day rate is negotiable and depends on other scheduled use.

Fellowship Hall
The Fellowship Hall is located on the main floor, adjacent to the sanctuary. There is a kitchen attached. This space is ideal for lunch gatherings or other types of meetings where you wish to serve light refreshments. We are not able to host wedding receptions in our fellowship hall, but will sometimes host rehearsal dinners or receptions following a concert or recital.
Shared Space Donation Rates:
Less than 25 people: $35 for two hours
25-50 people: $50 for two hours
Over 50 people: Negotiated price; contact church office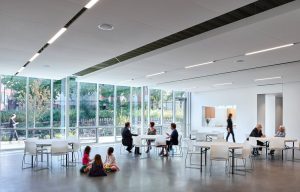 Westport Rising Room (Basement)
The Westport Rising Room is located in the basement of the church. There is stair and elevator access to the room. This room has a wood floor and small kitchenette area with sink and fridge. This multi-use space is used for Kung Fu and Tai Chi classes, Boy Scout Troop meetings, and a number of dance groups.
Shared Space Donation Rates:
Less than 25 people: $30 for two hours
25-50 people: $50 for two hours
Over 50 people: Negotiated price; contact church office