Amnesty International Letter Writing Campaign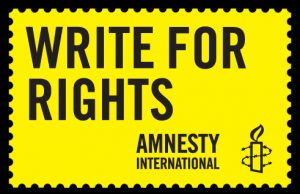 Sometimes a letter can change someone's life. That's the premise of Write for Rights, Amnesty's global letter-writing campaign and the world's biggest human rights event.
Every December, Amnesty supporters across the globe will write millions of letters for those whose basic human rights are being attacked. They are people like you, continuing a long tradition of writing letters to right some of the world's biggest wrongs. And it's not just letters – it could be petitions, emails, Tweets, Facebook posts, photos, postcards.
This year we're throwing our might behind the children and young people who are firefighting some of the world's biggest crises. Many have stepped in where adults have failed to lead, and are facing terrible danger as a result. Your words really can change their lives. Join us.
https://www.amnesty.org/en/get-involved/write-for-rights/
We will gather in the chapel at Westport Presbyterian on Saturday, Dec. 7 from 9 a.m. to Noon. Sample letters, paper, envelopes, stamps and pens will be provided.
Sponsored by the Mission & Outreach Committee at Westport Presbyterian Church.
All are welcome!