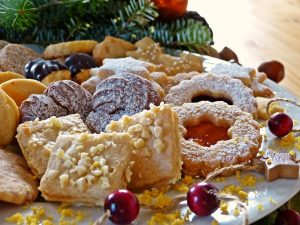 Let us help you with your holiday baking and candy making with a great selection of sweet treats! Homemade Christmas Cookies and Candies for sale by the pound!
Our Annual Holiday Cookie Sale Fundraiser benefits our Westport Concert Series.
This year, for safety reasons, we are offering our cookies pre-boxed, in 1-pound assortments. We'll offer a standard assortment of delicious Christmas goodies.
If you have special dietary needs you can reserve a gluten-free, nut-free, and/or vegan box online in advance.
We will also offer baked holiday breads, jams/jellies, and Riva's beautiful holiday aprons (fabulous gifts!)
Cookies may be purchased at the front or back entrances to the church. Our parking lot is at the corner of Central & Archibald.
We hope to see you there!
Volunteer bakers welcome! Contact Emily Davidson for more information.
Special Orders
You can reserve Gluten Free, Vegan, or Nut-Free boxes by submitting the form below.