Hello Westport Presbies, family and friends!
Greetings to all of you in the power of Jesus Christ and the love of God!
We hope you are staying strong and safe in the midst of these hard, harsh, joyful, challenging, encouraging and discouraging times. The beautiful spiritual expresses it well:
Sometimes I'm up, sometimes I'm down;
Oh, yes, Lord.
Sometimes I'm almost to the groun',
Oh, yes, Lord.
Glory, Hallelujah!
We buried beloved church member and Westport neighbor, Nancy Brockman, last week. Her family was with her as she died at home, and all came to a graveside funeral at Greenlawn Cemetery.
Rev Scott officiated. Blessings on Kayla and Rochelle Brockman who were staying with her and caring for her these past months! Blessings on Nancy, now on The Longer Journey!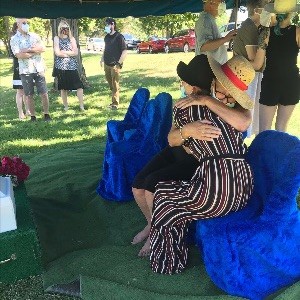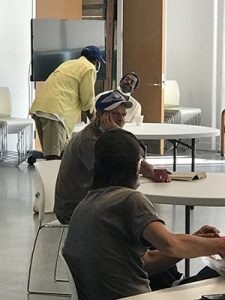 The church's work with homeless men and women continues to grow. The Sunday morning shower/clothes washing/breakfast ministry has been serving twenty people each Sunday recently. And we have been serving 40 with sack lunches during the week. We do need volunteers on Sunday morning. Our team of SEVEN (the seven who were sent from Heaven!) could use some support. If you want to help out, call 816-931-1032 or email the church office.
We always need food for the weekday sack lunches – sandwich meat, bread, canned meals with pop top lids for access, fruit cups, potato chips, water, and/or granola bars. More ideas on our website's mission page.  And we are always in need of casserole dishes for Sunday morning. Thanks to Drew Irwin, Drs. Brooke and Chris Sweeney, Karen Elmer, Steve Zeoli, Stan Morgan, and Riva Capellari for their persistent compassion!
Rev Scott, Joe Raach and Rita Marie McFadden, Linda and Harlan Smith, Jim Turner, Stan Morgan and maybe some others we aren't aware of joined in the Juneteenth PRAY ON TROOST, which stretched out for 10 miles along the sidewalk on Troost on June 19. Rev Scott has also been joining in the rallies for George Floyd and peaceful protests against police brutality on the Plaza and downtown. It is very important, right now, that we do everything under our power to end anti-blackness in our culture, in all areas of society and especially in policing since that is where the impact of racism is most felt by average African Americans. A few of us are also studying important books "White Fragility" and "Chokehold" and recommend them for reading. Stan Morgan and Rev. Scott have been discussing the need for local control of the police in Kansas City and the need for a lot more than nine months of training before officers have the power of life and death. Think about other professions with power of life and death – doctors, nurses, pharmacists, EMT's –where far more education and training is required.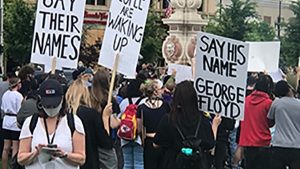 During this emergency time, the church has given out over $6,000 to people who were laid off, lost hours, lost jobs and have suffered hardship. Thanks to all the generous donors. You can continue to help this cause and the church itself in all its continuing work by sending donations by mail to WPC, 201 Westport Road, Kansas City, Missouri 64111 or go to our website and use the DONATE button to make a gift.
The church continues to support Westport Center for the Arts in many ways, and WCA held its first and very successful Livestream Friday Night Concert last week. WCA is also gearing up for KIDS SPREAD OUT FOR ART, with young artists spread out either in the church parking lot or inside throughout our huge, open first floor depending on the weather.
Pray for Steven Thomas and his wife Sue, the Brockman family, Fred Culver, Tarkio Presbyterian Church, Carly Simon and her brother and sister-in-law, Boy Scout Troop 60 (they are gearing up for socially distanced summer camp), the Wardlow family, the Lindsey family, Lois Harter, Joe Hawn, the Willow Woods Child Development Center (back in operation with 25 children), Don Sears (surgery), family of George Lewis (George, who died Friday, June 26, was the church's endowment fund manager for many years), and people working for Medicaid Expansion in Missouri. Congratulations to Trail White on being valedictorian at community college and full scholarship to UMKC. Hooray!
Thanks to church leaders who "Keep on Truckin" during these times; Bob Russell (building), Debbie Anderson (treasurer), Karen Elmer (Clerk of Session), the elders who are now holding ZOOM meetings, all our staff including custodians and our parking lot manager.
An inspirational Facebook Livestream worship is every Sunday at 11:00 am and can be located on our website's Sermon page.
Stay strong. Keep the faith! We will meet again with God's help!