Reopening News!
Updated April 28, 2021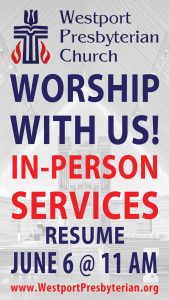 We are happy to announce that we will be having our first In-Person Worship Service on Sunday, June 6 at 11 am! As we resume our in person worship, we will continue to offer Livestream Worship Services both on our Website and on Facebook Live for those who are not able to attend in-person.
Adult Sunday School Classes will not resume yet, and we will not have a coffee hour after church at this time. We will ask groups seated in the Sanctuary to sit socially distanced. Masks will be required inside the building. For the safety of everyone in the congregation, we encourage you to get vaccinated.
We can't wait to see you!
COVID-19 News / Postponed Events
Updated February 19, 2021
Due to Covid-19 Concerns Westport Presbyterian Church is continues to have no in person worship services or special events at this time. We are hosting Livestream Worship Services and Westport Center for the Arts' Livestream Friday Evening Concert Series. Session and Committee Meetings are happening online through Zoom.
We will not be hosting any large scale in person events (such as concerts, student recitals, or weddings) until after the church has reopened for worship. We don't anticipate opening up for larger events until sometime this fall.
Some small groups have resumed meeting at the church at this time. Groups are welcomed as long as they are able to be socially distanced and wear masks. Activities that have resumed include:
Kung Fu & Tai Chi Classes
Boy Scout Troop 60
Cub Scouts
WCA's Kids Spread Out for Art (Free Children's Art Workshops)
Monday Men's AA Support Group
Sunday Morning Shower Ministry (Breakfast, Showers, & Laundry Services for the homeless)
Updated April 3, 2020
In accordance with the latest CDC guidance, Kansas City Mayor Quinton Lucas has updated his State of Emergency proclamation to disallow any gathering or events with more than 10 attendees," the city said in a news release Tuesday.
Due to the current CDC recommendations of no gatherings of 10 or more people Westport Presbyterian Church has decided to suspend all services, church meetings, and special events at this time.
A List of cancelled/postponed events include:
Sunday School Classes
In person Sunday Worship Services (our services will be live streaming online)
Special Services: Passover Seder Service, Illuminated Good Friday Service
Choir rehearsals
Church committee Meetings
The Phoenix Project Youth Group
"We Cried Power" Free Film Screening & Poor People's Campaign Update
WCA's Brown Bag Concert Series
Children's Mercy Healthy Families & Ties Group Meetings
All Concerts and Recitals through June
Tea Party Fundraiser for our Westport Concert Series
Support Group Meetings (AA, NAMI, etc.) may wish to continue to meet at this time as long as they are able to practice recommended social distancing. Groups that usually meet in the store front may choose to meet in our Fellowship Hall so they are able to spread out more. Check with your individual group leaders to see if your group has decided to continue meeting, cancel or meet online.
For the most up to date news and information and to access live streams of Sunday Worship Services follow the Church's Facebook page.
Updated March 13, 2020 from Westport Center for the Arts: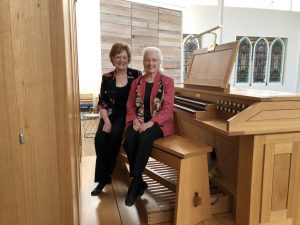 We are sorry to announce that due to recent concerns about preventing the spread of the COVID-19 Virus, we have decided to postpone March 2020's Brown Bag Concert. We don't want to put any of our attendees or performers at risk. Keep an eye on WCA's Facebook page for news, as we hope to reschedule this highly anticipated concert. Stay well everyone!
*2021 UPDATE* Bach's Keyboard Voices with Jan Kraybill & Marian Thomas has been rescheduled for Friday, March 19, 2021. It will be a Livestream Concert. More info is available in the Facebook Event.