Ascension of the Lord Sunday May 21, 2023, 11:00 am
(Video will be posted LIVE on the church's FB page at 11am, but D's on vacation this weekend so I'm not sure if it'll get cross-posted here as church starts)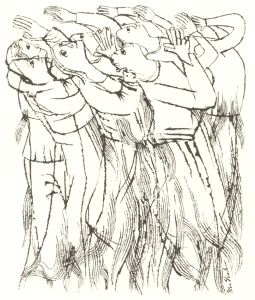 Te Deum Laudamus ("We praise you, God")
– Ben Shahn, great social realist artist, 1898-1969, born in Russia
PRELUDE: Voluntary —John Stanley
RESPONSIVE CALL TO RETURN TO OUR SOULS
Pastor: The God Who dwells in your hand,
People: Knows this secret plan!
Pastor: Of the things God will do for the world,
People: Using your hand! Pastor: Love is creation raised to a higher degree. People: We praise God!—by whose Light we may see!
—adapted from words of Tohoyiko Kagawa, Japanese Christian leader
HYMN:  All Hail the Power of Jesus' Name   GTG#263
UNISON CALL TO CONFESSION AND COMMITMENT
There is something basically wrong with our world. We don't have to look too far to see that. Look in the hearts and souls of human beings.The great danger facing us today is not the atomic bomb, created by physical sciencethat you can drop on the heads of millions of people, as dangerous as that is.The real danger is that atomic bomb which lies in the hearts and souls of humans capable of exploding into the vilest of hate and the most damaging selfishness. That's the atomic bomb we must fear todayThe problem is within the heart and the souls of people. That is the real basis of our confessionof the danger we pose to ourselves, to others, to the earth itself and to all beings on the earth. Amen.
-—adapted from "Recovering Lost Values" by Dr. Martin Luther King, Jr
AFFIRMING OF HEALING, SAVING POWER OF GOD:  Halle, Halle, Halle (sing refrain twice)   GTG#591
PASSING OF PEACE
Pastor: The peace of Christ be with you.
People: And also with you.
Pastor: Let us share the peace of Christ with each other.
You may use your hands/body to signal people you want to pass the peace in one of several ways:
· Hand outstretched to shake hands
· Hands together in Prayer/Namaste position, greet while standing apart
· Hug
· Fist Bump
Bible Readings: Psalm 121 Luke 24: 44-53    Jennifer Weiman
ANTHEM: Hark! Ten Thousand Harps and Voices—Robert J. Powell
SERMON: Ascend ! Transcend ! Becoming a Soul God Sends !
CONGREGATIONAL HYMN:  Crown Him with Many Crowns  GTG#268
WELCOMING
PRAYER: Pastoral Prayer, Lord's Prayer,
Congregational Sung Response:  Jesus, We Are Here(English and Shona)  GTG#392
OFFERTORY: All Good Gifts (From GODSPELL)—Stephen Schwartz, Luke Gilmore, tenor
                 Offering link
UNISON PRAYER OF DEDICATION
Kindness in words creates confidence. Kindness in thinking creates profoundness. Kindness in giving creates love. Amen.
—Lao Tzu
CLOSING HYMN: Soon and Very Soon    GTG#384    Substitute for Stanza 4—"No more Misogyny here….."
BENEDICTION
SUNG BENEDICTION RESPONSE: Soon and Very Soon   GTG#384    Sing actual stanza 4 "Soon and very soon….."
POSTLUDE: Comfort Now My People—Larry Shackley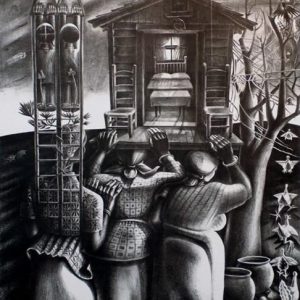 The Upper Room—John Biggers
Three Black women, standing on farmland, look into—and hold up—a kind of merged, holy, church and school building.
CHURCH AND COMMUNITY NEWS
Bread, Buns and Fruit are needed for the INTERRUPT HUNGER work we are doing. Thanks to all who are generously giving to this great work and to Westport Showers and Clothes Washing/Drying work. Thanks to everyone making WESTPORT SHOWERS happen on Sundays and on Thursday nights. You make space for grace! We need men's pants in all sizes! And men's shoes!
Children's Sunday School has restarted! During worship with teachers in the redesigned 2nd floor Children's Space, teaching & learning will emphasize Care for the Earth, Sky and all God's creation. 11:00 am start time.
We are committed to Steptoe Lives in an effort to honor and preserve the historic Black Westport community of Steptoe. A major event now being planned is Juneteenth in Steptoe, on the Sunday afternoon, June 18, 4 pm, the day before the new national holiday. Events will be held in the neighborhood (parade with drill team), at the St. James Missionary Baptist Church (music and Dancing Word) and here at Westport Presby (film) Want to join in the effort? Stan Morgan, Rev Scott and Mary Jo Draper, our church's electronic newsletter publisher, and Taylor Brown, Westport Center for the Arts Executive Director, are participating so far.
Friendship Time before and after worship with snacks and coffee. Starts at 10:20 am in the main hallway. Continues after worship. Time for spontaneous friendship interaction. Smile.
Westport Center for the Arts exciting, creative arts form—The Dancing Word!—is coming THIS FRIDAY & SATURDAY (Friday,7:00 pm, Saturday, 2:00 pm) Both performances here at church in the Fellowship Room turned into a performance space. For this performance, Taylor Brown's poem "I Dream of a World" and Glenn Stewart's poem "Locked Away" are interpreted through dance and choreography by Nora Burkitt-Davis and Suzanne Ryanstrati—dancers Tessa McNeil, Lauren Thompson, Kosha Chandler and Nora Burkitt Davis. Free. Donations welcomed to help WCA continue to create worlds that do not currently exist.
FREDitation—a time for centering prayer (20 minutes), Mondays, 4:30 p.m.
Presbyerian Urban and Immigrant Ministry Network (PUIMN) meets here Tuesday, 6 pm
Thank you, Jennifer Weiman, for your beautiful music, your voice, your commitment all these years! We will miss you! We are having a special reception to honor Jen after church in the Fellowship Room. All are invited!