Order of Worship Service—July 4, 2021, 11am  (Printable PDF)  
Independence Day Sunday 
PRELUDE: Largo—G. F. Handel
CALL TO RENEW THE SOUL OF THE PEOPLE
Pastor:    The cross!
People:   We shall carry it!
Pastor:    The bread!
People:   We shall share it!
Pastor:    The pain!
People:   We shall relieve it!
Pastor:    The joy!
People:   We shall celebrate it!
Pastor:    The gospel message!
People:   We shall spread it!
Pastor:    The love!
People:   We shall be lifted by it!
Pastor:    The light!
People:   We shall find our way by it!
Pastor:    The darkness!
People:   God shall overcome it! Praise God! 
SONG:     The Hammer Song
UNISON CALL TO CONFESSION AND COMMITMENT
On this Independence Day weekend, We confess That for many people ours is not a sweet land of liberty. And after Pilgrims' genuine pride, Many native people died.  Although true patriots have become noble by seeking, struggling, and even giving their lives to make others free— here and throughout the world— we find ourselves woefully short of the kingdom goal where all can truly sing freedom's song. Amen. 
We sing a traditional patriotic hymn that is ironic in that we don't live up to the ideals of liberty in the song, but it can inspire us to re-commit to those ideals and work to enlarge them.
HYMN: My Country 'Tis of Thee      #337 GtG
SCRIPTURE:          Proverbs 3              Neal Long
SUNG RESPONSE:   My Soul Cries Out with a Joyful Shout    #100 GTG
SERMON:      A July 4th Message on Creating Inclusive Democracy
HYMN:   This Is My Song(Finlandia)  #340 GtG
WELCOMING
CHORAL ANTHEM:   Child of God—Mark A. Miller
MORNING PRAYER
SUNG RESPONSE:  Lord, Listen to Your Children Praying    #469 GtG
OFFERTORY: My Good Lord's Done Been Here—traditional spiritual, arr. Moses Hogan            Joshua Stark, baritone
                 Offering link
UNISON PRAYER OF DEDICATION

May all beings everywhere, plagued with sufferings of body and mind, quickly be freed from their illnesses. May those frightened cease to be afraid, and may those bound be free. May the powerless find power, and may people think of befriending one another. May those who find themselves in trackless, fearful wilderness– the children, the aged, the unprotected– be guarded now and always. Amen.           –Buddhist prayer
HYMN:  Soon and Very Soon  384 GtG
BLESSING
SUNG RESPONSE:  Lead me, Guide Me (sing twice)    740 GtG
POSTLUDE: Canticle of the Turning (STAR OF THE COUNTRY DOWN)    set by Marianne Kim 
With the surge in Missouri of the Delta Variant of Covid-19, and Missouri's lower vaccination rate, please be extra careful. Keep your masks on indoors. Sustain social distancing. Use hand sanitizer all you want, and after church, please talk with each other outdoors! We've come this far by faith. Don't turn back now!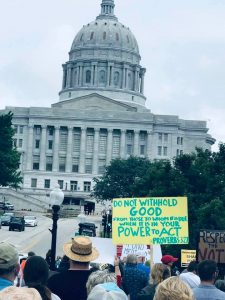 Participants:
Pastor- Scott Myers
Piano- Emily Davidson
Choir-  Neal Long, Jennifer Weiman, Em WitbolsFeugen
Camera: Josh Stark
Webpage- Martine Roesel