Dear Westport Presbies, family and friends,
Greetings in the Spirit of the Living God to all Jesus followers at Westport! We pray you are staying safe, staying well, staying aware and taking all steps necessary to stay alive during this terrible time.
The church is still working both within and beyond the walls. We are staying in contact with the sick, continuing to serve the most marginalized among us—people who are homeless—giving emergency support to people—being a place where small AA support groups can meet, and creating Live Streaming worship services to communicate comfort, hope and courage to everyone we can.
For news and spiritual resources, check out the Westport Presbyterian Facebook page:
https://www.facebook.com/westportpresbyterian/
And our website www.westportpresbyterian.org.
Thanks to Deanna Capps, you can find recent live streamed worship services (March 22 and March 29) fully recorded on the Facebook page if you scroll down the page to VIDEOS.  Sermons are published on the website, thanks to Martine Roesel.
A Live Stream Palm/Passion Sunday worship service will be at 11 am, this Sunday, April 5. Just go to the church's Facebook page. If you have a Facebook account, you can reply and add your prayers during the service. You can still watch the service without a Facebook account on facebook or on our website on the sermon page (give the sermon page a few extra minutes). The MESSAGE for the day is: Hope: The Light  You Keep Lit Within.
Below is a photo of Chris Sweeney, M.D. sanitizing the fellowship room as the Sunday Shower Ministry wound down last Sunday. Two of the people served are in the photo. Thanks to Brooke Sweeney, M.D. for leading this great work, along with Drew Irwin, Steve Zeoli, Debbie Anderson, Stan Morgan. One of the people served, Rick, had found a job as a temporary employee. We were able to help him with the clothes he needed for work and with a shower. They told him this week that they were doing to give him a permanent position. We praise God!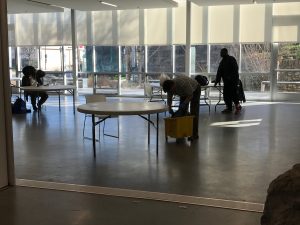 We continue to pray for power and healing for Nancy Brockman(North Kansas City Hospital) Fred Culver and Rae Peterson (home), Steven Thomas(still stable following stem cell transplant), Maxine Lindsey(approaching 100th birthday!), Alison and Drew Irwin (expecting a baby), Joe and Rita Marie Raach (caring for less than a year old Joe, Jr who is well and growing), all families and individuals struck down by Covid-19 and everyone, especially doctors, nurses, and health care workers, on the front lines in fighting this pandemic! Also all staff and families at Willow Woods as they have not been able to stay open in April as too many families were impacted by the mayor's necessary stay-at-home order.
To give to our Lenten/Easter cause ONE GREAT HOUR OF SHARING, or the work of the church, go to  https://tithe.ly/give?c=1306440. Or you can mail offerings to 201 Westport Road , KCMO 64111. We know this is a hard time for all. Thanks to all who keep helping in every way.
Keep the faith! Keep loving! Keep hope alive! Keep Christ in your heart! And your neighbor in your soul's window…..Rev Scott